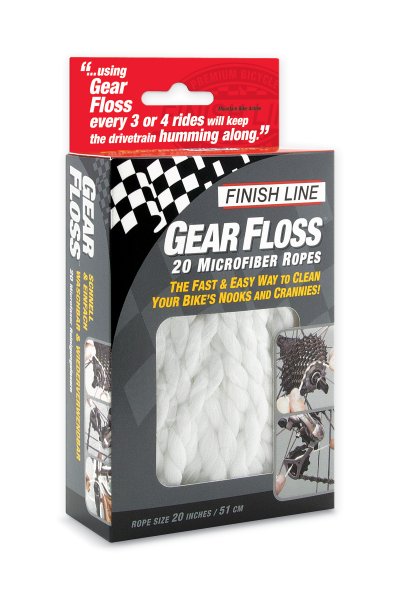 Finish Line Gear Floss™ est l'outil de finition ultime ! Parfait pour nettoyer votre cassette, vos plateaux avant, vos roues jockey, vos moyeux et axes, vos bras de frein, votre interface pédalier/manivelle, etc.
Gear Floss est fait de corde en microfibre, qui agit en attirant, en enlevant et en retenant la saleté. D'autres matériaux déplacent simplement la saleté. La microfibre agit en capturant la saleté, la graisse et les particules à l'intérieur de ses rainures en forme d'étoile. La saleté est retenue profondément à l'intérieur du noyau de la fibre. Les microfibres éliminent la saleté mieux que tout autre matériau connu de l'homme ! Gear Floss est très résistant à la déchirure et est lavable.

Facile à Utiliser!
  - Placez le Gear floss entre entre les écrous de votre cassette
  - glissez-le en va et viens
  - répétez sur toutes les zones difficiles à nettoyer

--

Finish Line Gear Floss™ is the ultimate detailing tool! Perfect for cleaning your cassette, front chain rings, jockey wheels, hubs and spindles, brake arms, bottom bracket / crank interface, and more.
Gear Floss is made of microfiber rope, which works by attracting, removing, and holding grime. Other materials simply move grime around. Microfiber works by capturing dirt, grease and particles inside its star-shaped grooves. Dirt is held deep inside the core of the fiber. Microfibers remove grime better than any other material known to man! Gear Floss is highly tear-resistant and is washable.
Easy to Use!
  - Position floss between gears
  - Slide back and forth
  - Slide into other hard-to-clean areas like jockey wheels, hubs and spindles, brake arms, bottom brackets /crank interface, etc.