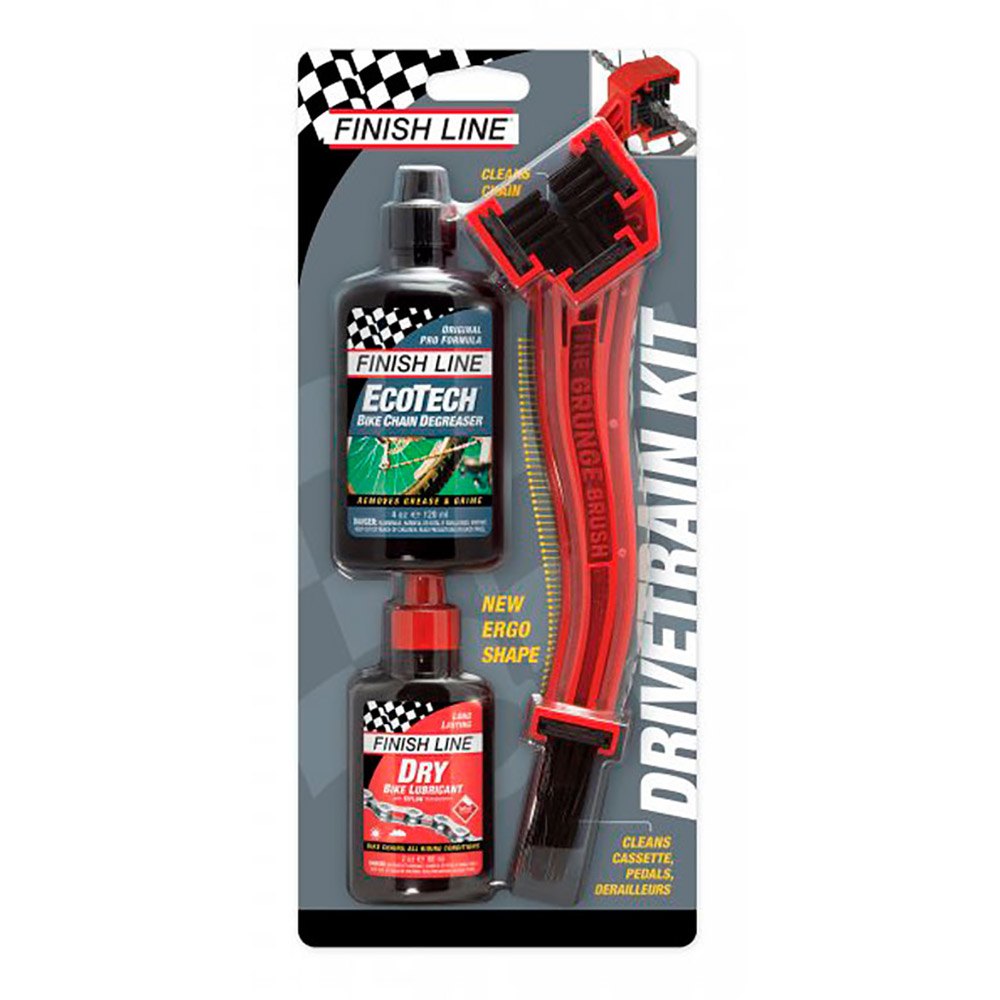 Le Drivetrain Kit™ vous propose trois de nos produits les plus populaires dans un kit de nettoyage pratique : The Grunge Brush™, EcoTech™ Bike Degreaser et DRY Lube.
La Grunge Brush™ est notre brosse de nettoyage la plus populaire car elle est super durable et maintenant encore plus facile à utiliser avec un nouveau manche ergonomique. Ses poils raides brisent les saletés et la crasse. Utilisez l'extrémité en forme de U pour nettoyer votre chaîne et vos plateaux, utilisez l'extrémité arrière pour nettoyer vos dérailleurs et autour des pattes et entre le boîtier de pédalier et les plateaux.
EcoTech™ Bike Degreaser est un nettoyant super puissant qui dissout rapidement la graisse et la crasse. Il est 100 % biodégradable et ne gruge pas les pièces en plastique et en caoutchouc - il peut donc être utilisé en toute sécurité n'importe où. Utilisez le dégraissant pour vélo EcoTech™ avec la brosse Grunge™ pour un nettoyage complet.

DRY Lube est notre lubrifiant le plus populaire. Appliquez-le sur la chaîne et autres pièces mobiles. Maintient votre transmission en bon état plus longtemps sans attirer la saleté et le grunge.

--

The Drivetrain Kit™ brings you three of our most popular products in one convenient cleaning kit: The Grunge Brush™, EcoTech™ Bike Degreaser, and DRY Lube.
The Grunge Brush™ is our most popular cleaning brush because it is super durable, and now even easier to use with a new ergonomic handle. It's stiff bristles break up grunge and grime. Use the u-shaped end to clean your chain and chainrings, use the tail-end to clean in your derailleurs and around the dropouts and between the bottom bracket and chainrings. 
EcoTech™ Bike Degreaser is a super strong cleaner that breaks up grease and grime fast. It's 100% biodegradable, super low order, and safe with all plastic and rubber parts – so its safe to use anywhere. Use EcoTech™ Bike Degreaser with the Grunge™ Brush for a complete clean.
DRY Lube is our most popular lubricant. Apply to the chain and other moving parts. Keeps your drivetrain moving smoothly and lasting longer without attracting dirt and grunge.
Contiens/Contains:
  - Grunge Brush
  - 4oz EcoTech™ Bike Degreaser
  - 4oz DRY Lube