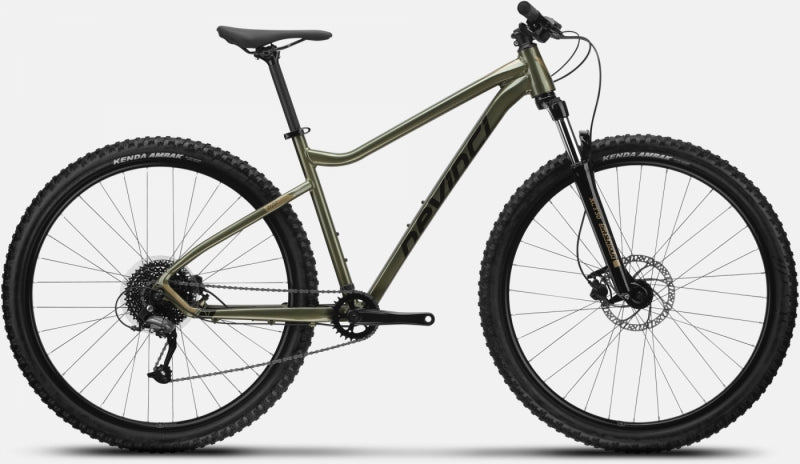 Devinci Riff Altus 9s Rockwood Green: 899$+tax
 NOTEZ QU'UN ACOMPTE N'EST PAS REMBOURSABLE
Le nouveau Riff 29, c'est votre meilleur compagnon, que vous rouliez sur du bitume lundi matin ou dans des sentiers de terre la fin de semaine. Ce vélo XC sportif, équipé d'une charpente en aluminium d'enfer, mise sur des roues de 29 pouces qui n'ont que faire des racines, roches, murets, nids-de-poule, escaliers et piétons perdus. Assorti d'une garantie à vie et d'un prix qui ne vous mettra pas dans le rouge, le Riff ne recule devant rien.

Découvrez le Riff en plus de détail au site web Devinci

--

Whether it's Monday's concrete commute or a weekend's worth of unpaved exploration, Devinci's new Riff 29 is a truly versatile accomplice. The anatomy of this sporty XC starts with a bomber aluminum build, coupled with a capable 29" stance that makes easy work of roots and rocks, as well as curbs, potholes, stairs and wayward pedestrians. With a lifetime warranty and a sticker price that won't crimp your accounts, the Riff is ready for whatever you got.

Learn more about the Riff at the Devinci website
 S.V.P., notez qu'en achetant ce "produit" d'acompte pour commande d'un vélo, vous acceptez de plaçer une commande avec Cycle Synergie ou Boutique TOUT TERRAIN pour un vélos dont les détails de prix, date estimée de disponibilité, taille et couleur ont étés confirmés avec un représentant de nos boutiques.  Un acompte pour une commande de vélo n'est pas remboursable.  Merci!

--

Please note that the purchase of this "product" of a special-order deposit for a bicycle is non-refundable.  Please ensure that you've spoken with a representative of Synergy Cycle or Boutique TOUT TERRAIN regarding the price, estimated availability date, size and colour of the bicycle you would like to order, prior to placing your deposit.  Thanks!
--
TOUT ACHATS DE VÉLOS PLAÇÉ EN-LIGNE SONT SUJET À UNE CONFIRMATION DE DISPONIBILITÉ DE TAILLE ET DÉTAILS DE DISPONIBILITÉ DE RENDEZ-VOUS.
TOUT NOTRE INVENTAIRE EST EN QUANTITÉ TRÈS LIMITÉE.  

ALL BIKE PURCHASES PLACED ON-LINE ARE SUBJECT TO AVAILABILITY CONFIRMATION AND DELAYS IN APPOINTMENT PLANNING, BASED ON OUR AVAILABILITY.  
ALL OF OUR INVENTORY IS IN LIMITED QUANTITY.