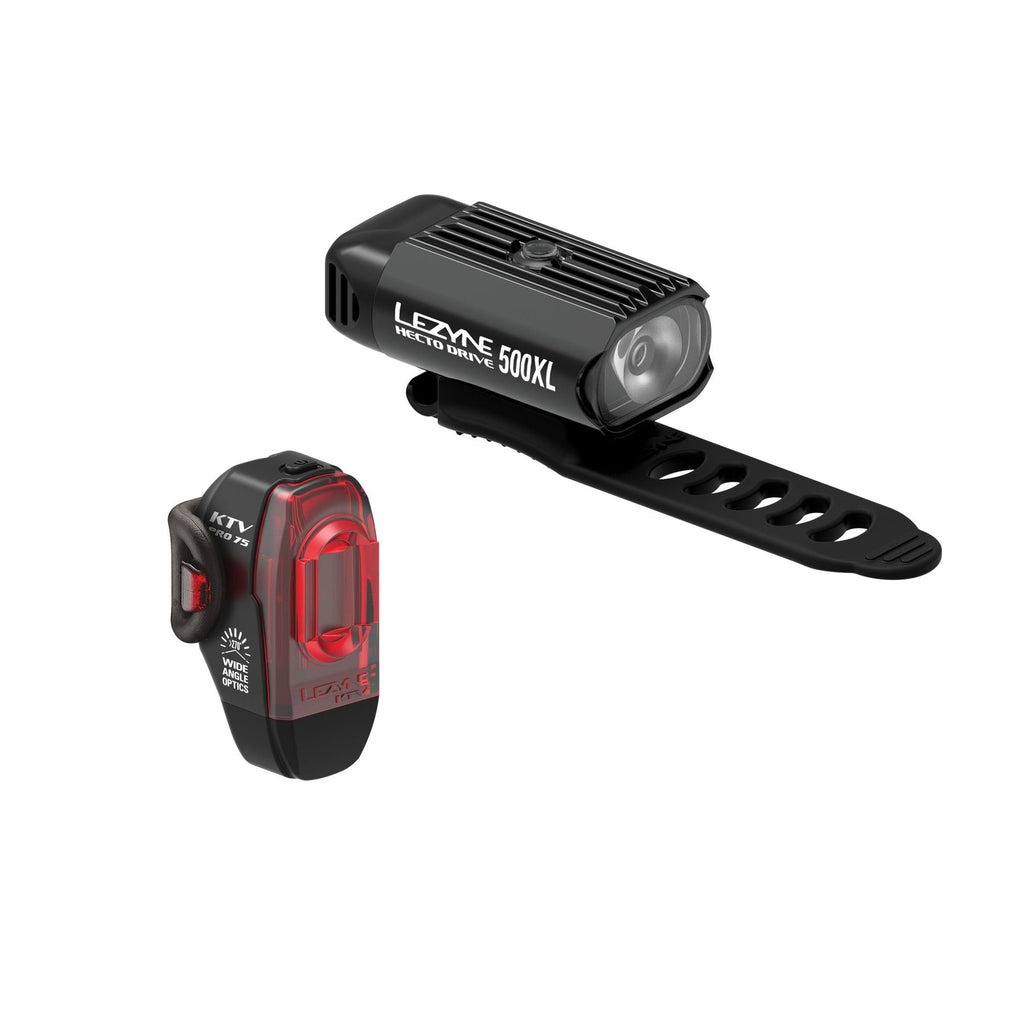 The Hecto Drive 500XL is a compact, durable cycling light with a machined aluminum body with built-in cooling fins and cutouts for side visibility. Its single LED design provides an impressive maximum output of 500 lumens and eight output modes, including a Daytime Flash mode. Offering up to 20 hours of total runtime, charging is simple with an integrated cable-free USB stick, and the light straps securely to a variety of handlebar shapes and sizes.

The KTV Drive Pro Rear is a compact, aero post compatible bike light providing up to 75 lumens and five output modes. It offers up to 19.5 hours of max runtime as well as a visibility-focused Daytime Flash mode. Its co-molded construction is super light, durable, and holds an IPX7 waterproof rating. The light utilizes our Wide Angle Optics lens design to provide 270° of visibility, and an integrated USB stick allows convenient cable-free recharging.

--
Le Hecto Drive 500XL est une lumière de vélo compacte et durable avec un corps en aluminium usiné avec des ailettes de refroidissement intégrées et des découpes pour une visibilité latérale. Sa conception à LED unique offre une puissance maximale impressionnante de 500 lumens et huit modes de sortie, dont un mode flash diurne. Offrant jusqu'à 20 heures d'autonomie totale, la charge est simple grâce à une clé USB intégrée sans câble et les sangles lumineuses s'adaptent en toute sécurité à une variété de formes et de tailles de guidon.

Le KTV Drive Pro Rear est une lumière de vélo compacte et compatible avec les poteaux aérodynamiques offrant jusqu'à 75 lumens et cinq modes de sortie. Il offre jusqu'à 19,5 heures d'autonomie maximale ainsi qu'un mode flash diurne axé sur la visibilité. Sa construction co-moulée est super légère, durable et détient un indice d'étanchéité IPX7. La lumière utilise notre conception de lentille optique grand angle pour fournir une visibilité de 270°, et une clé USB intégrée permet une recharge pratique sans câble.